Some of them are rare and hard to spot, and some are easier to encounter.
Without further ado, here are three animals to put on your "must photo" list in the Friendly Negev Desert:
Nubian Ibex
Ibex are the iconic animal of the Friendly Negev Desert. So iconic, in fact, that they appear not only on the logos of many local companies and organizations, but also in numerous sites of rock art dating back thousands of years. They are native to most of the subregions in the Negev, and will live anywhere with rocky cliffs. Male ibex grow giant horns that are arched backwards. These are used mostly for show and for sparring with other males for the right to mate with the females of the herd. Females' horns are short and pointy. They are much more effective as a defensive weapon against predators which might threaten their young kids.
Where? There are two places where it will actually be very difficult for you to miss an encounter with a herd of ibex: The promenade along the cliff in Mitzpe Ramon, and the desert garden around David Ben Gurion's grave. Though in both you are pretty much guaranteed a photo-op with the ibex posing against the amazing landscape, neither of them is truly natural. There is nothing like encountering ibex in the wilderness. Just keep your eyes open wherever a hike crosses cliffs, and you're very likely to see them resting or walking along, or better yet- effortlessly hopping from one impossible ledge to the next.
Griffon Vulture
This is, no doubt, one of the most majestic creatures you might get see. These giants of the sky are an endangered species, and they have all but disappeared from their original territories in the Middle east. The population of Griffon vultures in the Friendly Negev Desert is considered to be one of the most stable ones, and it still only numbers about 100. Vultures are scavengers and can easily cover a radius of 50km, daily in search for food. They mate for life, and both parents will share the in the care of the single (!) egg .
Where? The best place to view vultures is in the canyons of Ein Avdat and Ein Akev, just across of Ben Gurion's grave. The best season is the spring when the young vultures are learning to fly and stay close to the nest. As part of the protection efforts, National Park Service ranger will periodically leave a carcass out for the vultures in special feeding stations. This is to supplement the natural supply of food for the vultures. Once a year this is done in Avdat national park, which is totally accessible to the public – and then you can easily plan your viewing opportunity.
Scorpions
I know… for many of us, just the thought of these venomous arthropods is enough to send a chill running down our spine, and the idea of voluntarily seeking an encounter with them in person is absurd. And yet, if you get over your initial suspicion (or panic), and join a nightly scorpion safari, you will not regret it.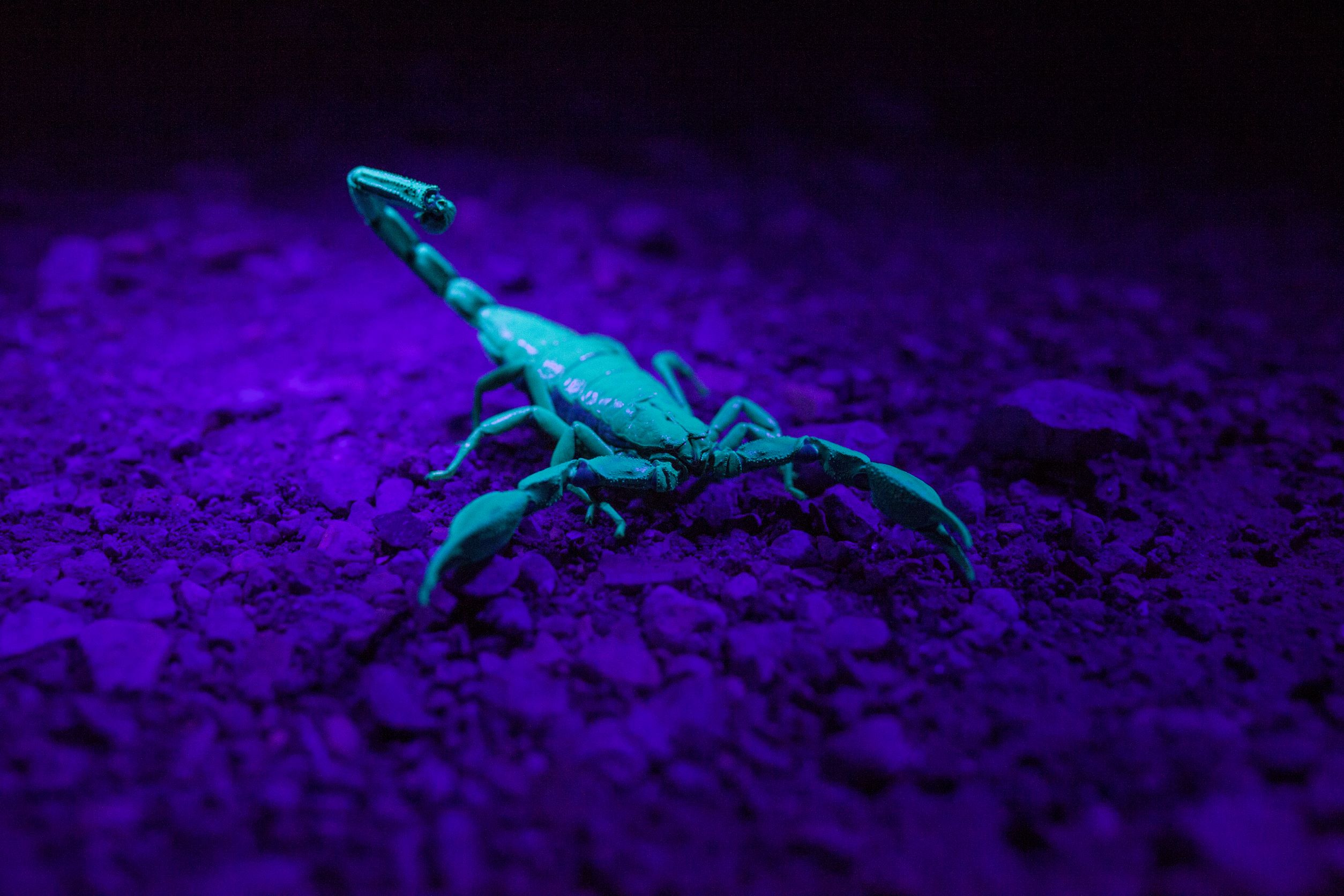 Scorpions are fascinating creatures, and an important element in the local food chain. They are fierce hunters, and though their sting can be dangerous, they will do anything they can to stay out of your way. The best way to find them at night is with an ultra violet flashlight, which makes them glow like a party trick, and this makes for a great photo.
A word on (everyone's) safety
Remember, all of these animals, and many others, have been living in the desert for thousands of years without human interference. It is important we let them continue living without disturbing them. Feeding animals is dangerous to them and to you, and trying to touch them never ends well. Respect their distance and take plenty of pictures.
No matter what time of year you decide to visit the Friendly Negev Desert, be sure to keep your eyes open and look for the wild residents of this amazing desert environment.